February 17, 2015
Dave, Nick and Ed Pledge to Save the Planet
The Green Alliance say they are:
A charity and independent think tank focused on ambitious leadership for the environment.

Since 1979, we have been working with a growing network of influential leaders in business, NGOs and politics to stimulate new thinking and dialogue on environmental policy, and increase political action and support for environmental solutions in the UK.
They announced on Valentine's Day 2015 that:
In a highly unusual move the Prime Minister, Deputy Prime Minister and the Leader of the Opposition have agreed to work together across party lines to tackle climate change.

The agreement follows the launch of The Climate Coalition's SHOW THE LOVE campaign which has reached millions across the UK, thousands of whom are wearing green hearts and telling the world what they love that could be lost to climate change.
Here's video evidence of Dave, Nick and Ed showing their love for our planet by signing the agreement:
and here is another video revealing some famous faces ranging from Stephen Fry to Jarvis Cocker showing their love for our planet by reciting a Shakespeare sonnet.
The agreement our glorious leaders and would be leader signed states that:
Climate change is one of the most serious threats facing the world today. It is not just a threat to the environment, but also to our national and global security, to poverty eradication and economic prosperity.

Acting on climate change is also an opportunity for the UK to grow a stronger economy, which is more efficient and more resilient to the risks ahead. It is in our national interest to act and ensure others act with us.

2015 offers a unique opportunity to accelerate that opportunity, with countries pledging their contributions to action before the world comes together at Paris at the end of the year to reach an agreement on tackling climate change. It is vital that this agreement is a success, and the UK will play its part in ensuring an ambitious outcome.

That is why we pledge:

To seek a fair, strong, legally binding, global climate deal which limits temperature rises to below 2°C.
To work together, across party lines, to agree [UK] carbon budgets", which are required by law but which caused serious cabinet clashes in 2011.
To accelerate the transition to a competitive, energy-efficient low-carbon economy and to end the use of unabated coal for power generation.
Many fine words from the likes of Dave, Nick, Ed, Stephen and Jarvis then, but for me at least here's a different quote from Will that sums things up neatly:
It is a tale
Told by an idiot, full of sound and fury,
Signifying nothing.
Why do I quote those words of Macbeth, or these?
Gracious my lord,
I should report that which I say I saw.
Last Friday I attended a seminar at Exeter University given by Professor Kevin Anderson,  who is professor of energy and climate change in the School of Mechanical, Aeronautical and Civil Engineering at the University of Manchester. Here is a brief extract:
You will note that Kevin asks a rhetorical question at 1:10:
What about 2°C?
and summarises the answer as follows: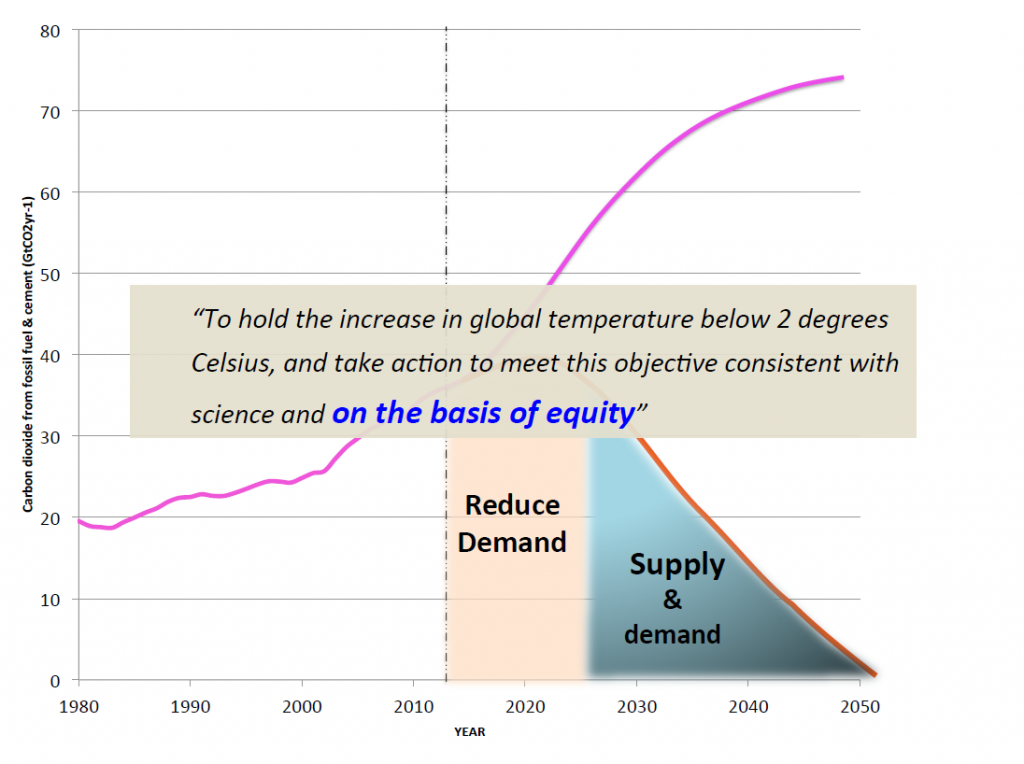 He goes on to say that:
We can't do [2°C] with low carbon supply. We can't make the changes quick enough. You have to do something with our demand for energy, and that is very, very unpopular amongst all of us, all of our colleagues, all the policy makers, so basically the whole world, all the high emitting parts of the world, which is only a small proportion, none of us like this at all, and that's why we don't really like the science.
My words to that effect on the Green Alliance blog currently remain hidden from public view.
A copy of Professor Anderson's slides from his presentation can be downloaded from the seminar archive web page.